Callbacks for window events. More...
#include <gui_tk.h>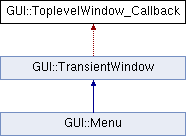 ---
Detailed Description
---
Member Function Documentation
The window has been asked to be closed.
Return false in order to block the requested action. Do not do any deallocation here, as other callbacks may abort the close process.
Implemented in GUI::TransientWindow.
Referenced by GUI::ToplevelWindow::close().
---
The documentation for this struct was generated from the following file: